Payroll News Canada - Employment Articles
February 2023 - Welcome to the latest edition of The Payroll News! As always, please feel free to forward this newsletter to your friends and associates who are interested in keeping up with the latest changes in Canadian payroll, employment and HR News. Federal and Provincial news items are listed immediately below followed by our Featured Article.
---
Tip of the Month
February 2023 - CPP and EI Special Payments - Did you know that the CRA provides a chart that will help you determine whether or not to deduct Canada Pension Plan (CPP) contributions, employment insurance (EI) premiums, and income tax on the special payments you make to your employees or recipients? The chart also includes notes about deducting tax from these payments. If your specific payment is not included on the chart, they also provide an alphabetical index to assist in locating your specific payment type. Click Here to learn more about this useful resource.
Looking for past tips? Please visit our Tip of the Month archive for historical tips other useful information that will assist with your payroll and HR tasks.
---
Canadian Federal Payroll and Employment News
February 13, 2023 - A guide to understanding Statistics Canada's unemployment numbers - Every month, Statistics Canada releases unemployment figures. Here's a quick look at the vocabulary, tools and meaning behind these numbers. To understand unemployment, you need to know why the unemployment rate is important. The unemployment rate tells us how well the economy is using its available resources (workers), said Vincent Hardy, senior analyst with Statistics Canada. (Full Story)
February 13, 2023 - This Is The Average Salary In Canada For 2023 & Which Jobs Pay Much Higher Wages - How does your salary compare to the rest of Canada? Job platform Indeed has shared what the average salary in Canada looks like, as well as how it compares to average wages in each province, and some regions make quite a bit more. Citing data from Statistics Canada, the average weekly salary across Canada among residents over 15 years old works out to be $59,059 per year, according to Indeed, or a weekly rate of $1,136. (Full Story)
February 12, 2023 - Employers face 'resistance' as they seek to increase office days - Hybrid and remote arrangements that became commonplace during the COVID-19 pandemic may not be going away any time soon, but some big Canadian employers want people to clock in from their office desks more frequently. Nearly three years after the global pandemic set in, sending office workers home with their laptops in hand, public health restrictions have largely lifted, and companies are starting to ramp up their number of mandatory office days. (Full Story)
February 10, 2023 - More employers boosting pay in 2023 - It seems the number of companies turning to higher pay to attract talent continues to rise. Nearly seven in 10 (69 per cent) of Canadian employers say wages will increase again this year. That is up from 66 per cent last year and a significant increase from 55 per cent in 2021, finds Express Employment Professionals. (Full Story)
February 10, 2023 - How many CEOs are planning workforce reductions? - Despite a bleak outlook, few CEOs are considering cutbacks to their workforce, according to a recent survey. Roughly one-quarter are considering hiring freezes (24 per cent) and workforce reductions (23 per cent) while fewer are planning compensation cuts (13 per cent) in the next 12 months, according to PwC Management Services. Among Canadian CEOs, 67 per cent do not plan to freeze hiring, compared to just 18 per cent who are considering the move. (Full Story)
February 10, 2023 - January job numbers continue rising trend - While the unemployment rate remained the same for January, 150,000 new jobs were created. According to the latest Labour Force Survey released by Statistics Canada, the unemployment rate came in unchanged at five per cent. The positive job numbers continue a trend that began in September, resulting in 326,000 new jobs since then. For women aged 25 to 54, the news continues to be positive as the employment rate of 82.2 per cent became the highest since 1976 when comparable data became available. (Full Story)
February 10, 2023 - How wellness is guiding employers, employees into the future workplace - After early three years mired in the coronavirus pandemic, employers are beginning to put the pieces of their respective workplaces back together, using wellness as the cornerstone. They're shaping their respective new ways of working - whether remote, in-office or hybrid - and expanding their thinking around wellness to achieve a successful return to a working normal. (Full Story)
February 10, 2023 - Labour Force Survey, January 2023 - Employment increased by 150,000 (+0.8%) in January, and the unemployment rate held steady at 5.0%. Employment gains were driven primarily by people aged 25 to 54 (+100,000; +0.8%), split evenly between women and men in this group. Employment also increased among people aged 55 and older (+43,000, +1.0%), while it was little changed among youth aged 15 to 24. (Full Story)
February 8, 2023 - Government Of Canada Is Hiring For A Lot Of Jobs In Alberta - The Government of Canada is currently hiring for a ton of jobs all over Alberta and you can get paid a triple-figure salary. Among the government jobs available right now are railway equipment inspectors, project engineers and nursing education providers. Jobs are available in Calgary and Edmonton as well as Lacombe and Red Deer. If you're looking to snag yourself a new job, one of these Government of Canada jobs could be the perfect fit. (Full Story)
February 6, 2023 - Just 25% of employers offering semi-retirement arrangements: survey - Despite an ongoing labour shortage, just a quarter (25 per cent) of Canadian employers offer semi-retirement arrangements, according to a new survey by the Harris Poll on behalf of Express Services Inc. Semi-retirement - or phased retirement - is a period of time during which a person stops working full time and begins working fewer hours. (Full Story)
February 2, 2023 - Nearly half of Canadian companies plan to raise employee salaries this year - Lots of Canadian organizations have plans to substantially increase salaries this year, new research from business consultation firm Normandin Beaudry has found. A survey about salary increase plans was held late last year, in which 440 organizations across Canada participated. The survey's purpose was to establish how earlier market predictions fared against businesses' real plans. (Full Story)
February 1, 2023 - Half of Canadian employers increasing salary budget for 2023: survey - Half (48 per cent) of Canadian employers say they're increasing their salary budget for 2023, according to a new survey by Normandin Beaudry. The survey, which polled more than 440 employers, found two-fifths (43 per cent) of respondents said they've earmarked an average of 1.2 per cent in additional funds for salary increases. Among the main reasons for increasing salary budgets, respondents cited market adjustments (76 per cent), retention of strategic or critical roles (60 per cent) and retention of employees at risk of leaving (51 per cent). (Full Story)
January 30, 2023 - Canada Jobs: Wages And Number Of People Working Climbed In November, Latest Data Reveals - Wages and the number of people landing paying Canada jobs both climbed in November last year, the latest data from Statistics Canada reveals. In its Payroll Employment, Earnings and Hours, and Job Vacancies, November 2022 report, the statistical and demographic services agency reveals that wages in that month were up 4.2 per cent over a year earlier and an extra 7,100 people in Canada landed paying jobs. (Full Story)
January 30, 2023 - 62% of Canadian employers using hybrid working model: survey - Nearly two-thirds (62 per cent) of Canadian employers say they're using a hybrid working model, according to a new survey by Colliers Canada. The survey found 34 per cent said they require employees to work onsite full time, while just four per cent said they use a fully remote working arrangement. Just 49 per cent of respondents said they've finalized their plan for balancing in-office and remote work, while 27 per cent said they haven't finalized their plan and 24 per cent said they haven't developed a plan yet. (Full Story)
January 27, 2023 - Canada's payroll employment increases, as strong hiring continues - Across 10 out of 15 sectors, payroll employment (the number of employees receiving pay or receiving benefits from their employer) increased in November 2022-a good indication of a strong hiring climate, and a returning to pre-COVID economic output in Canada. As a result, many industries also saw a decrease in job vacancies-as employers were more effectively able to hire to fill openings, in the face of looming labour shortages. (Full Story)
January 27, 2023 - Should more employers offer 'workcations' as a benefit? - "If employers want to have happy employees, productive employees, I think it's a really good idea." So said Karolina Turowska, community manager at Polish startup photoAiD, which helps clients with passport photo processing. And data backs up her claim. Overall, 67% of Americans went on a workcation to "recharge their mental and emotional batteries, according to passport-photo.online's survey of over 1,100 Americans, conducted in December 2022. (Full Story)
January 25, 2023 - Demystifying the Canada Pension Plan - You've been contributing for years, but do you know what you'll receive? For Canadians at or nearing retirement, the Canadian Pension Plan (CPP) can be a mystery. Many people who have contributed for years are unaware when they should begin their CPP and how much they'll receive. It's not as simple as collecting the CPP as soon as you can or leaving it until age 65. (Full Story)
January 24, 2023 - Canadian women want flexibility in the workplace - It is clear the pandemic has significantly changed the way Canadians view work and the workplace, according to a new study done by Abacus Data on behalf of The Honest Talk. A survey of more than 1,300 working adults in Canada reveals that 69% of respondents feel their work life has changed in some way as a result of the pandemic. Nearly half say that change is for the better. (Full Story)
January 20, 2023 - Double your vacation: This loophole lets Canadians maximize their days off for 2023 - Ever feel like vacation days pass way, way too quickly? We're about to let you in on a little secret that might help you maximize your 2023 time off. An analysis carried out by IT staffing firm Frank Recruitment Group shows that a maximum amount of time off work this year is "guaranteed" if you leave for your trip keeping certain bank holidays in perspective. (Full Story)
January 16, 2023 - Employers can use 'Blue Monday' to reset workplace mental-health strategies - The third Monday in January, also known as 'Blue Monday,' is considered to be the saddest day of the year, as people contend with frigid weather and higher-than-normal credit cards bills from the holiday season. Employers can use this occasion to check in with employees and plan their mental-health strategies for the year - it's a great time to remind staff of the well-being support tools available to them, such as employee assistance programs. (Full Story)
January 13, 2023 - The green jobs boom is coming to every corner of Canada - Climate action in Canada will create millions of new jobs and attract hundreds of billions of dollars in investment in the decades to come – much to the benefit of Canadian communities. From improving the energy efficiency of homes in Victoria, British Columbia, to producing hydrogen in Stephenville, Newfoundland, careers will be built across the country. But which clean economy opportunities will create green jobs in which regions? (Full Story)
January 12, 2023 - More Canadian workers have paid sick days than ever. Should paid sick leave be the law for all? - More workers have guaranteed paid sick leave in Canada than ever before. Ottawa's new law requiring 10 permanent paid sick days per year for all workers in federally regulated industries took effect last month, and B.C. is one year into its law granting most workers in the province five employer-paid sick days annually. (Full Story)
January 11, 2023 - Canada Pension Plan doesn't need fixing - The Canada Pension Plan is an employee/employer-funded program. It is not funded by government. Canada Revenue Agency and Employment and Social Development manage the fund. When a person reaches 60, they can begin to withdraw funds or if they are still working they can make additional contributions. The more you work, the more you will receive so not all people receive the same amount. (Full Story)
January 10, 2023 - Canadian workers' wages are on the rise. Can they keep pace with inflation? - Canadian workers faced an uphill battle trying to keep pace with inflation in 2022, jobs figures show, a struggle that experts say forces hard decisions for low-income workers who aren't making a living wage. Statistics Canada's labour report showed Friday that average hourly wages were up 5.1 per cent in December over the previous year. Canadian workers faced an uphill battle trying to keep pace with inflation in 2022, jobs figures show, a struggle that experts say forces hard decisions for low-income workers who aren't making a living wage. Statistics Canada's labour report showed Friday that average hourly wages were up 5.1 per cent in December over the previous year. (Full Story)
January 9, 2023 - Mandatory overtime is increasingly the norm for Canadian workers - The eight-hour working day and forty-hour workweek are increasingly becoming a relic of the past in Canada and internationally. These fundamental advances, which workers fought and died for over the course of a century and a half, are now effectively a dead letter. In spite of extraordinary technological progress and unprecedented productivity, workers in every industry are working longer for less. (Full Story)
---
Provincial Payroll and Employment News (Choose a province to expand the articles)
---
5 Factors to Consider Before Investing in Payroll Software
As the world of work changes along with rapid digital disruption, so too must the way businesses handle payroll. With more businesses operating remotely and distributed workforces becoming the norm, automating payroll with software is no longer a luxury, but a necessity.
When operating a business, there are many factors to consider before making any sort of investment-particularly when it comes to something as crucial as payroll. Mistakes in payroll best practices can be costly, and can even lead to employee turnover. In today's economy, employers can ill-afford talent shortages.
Payroll at a Glance
Payroll is a critical aspect of business operations-one of the gears that keep the organization's wheels turning. Payroll involves a detailed process of calculating employee earnings and tax obligations.
In many organizations, payroll is the most significant overhead expense. Generally, companies spend 15% to 30% of their expenses on salaries. Computing salaries can be complex; however, understanding the process is critical to managing your business's finances. Below is a diagram that outlines a typical payroll process and workflow: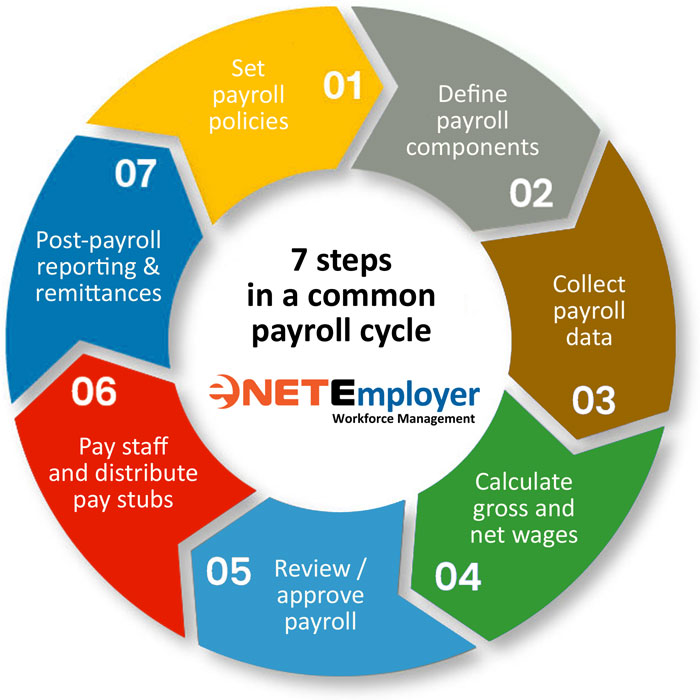 There are multiple ways to process payroll. You can do it manually, or outsource it to a payroll provider. Better yet, consider a payroll system that helps to automated some of the process.
If you plan to invest in a payroll system, there are some critical factors to consider.
5 Factors to Consider Before Investing in Payroll Software
Here are some questions you should ask your payroll software provider before choosing to sign up with them.
How much automation is provided? The primary benefit of a payroll system is the automation it offers. Automating payroll processes will simplify the task of paying employees on time. It can ensure accuracy, while saving time with obligations like salary generation, cheques and deposits, provincial and federal taxes, and remittances.
Automating standard processes allows payroll managers to focus on higher value tasks.
Does it allow customization? Customizing a payroll application means being able to select the features your organization needs, such as task-specific reporting, work processes, breaks, tax deposit and filing, bank account enrollment, and others.
Additionally, you must determine whether the software is compatible with mobile devices. This feature helps HR teams to access the dashboard and to process payroll on their mobile devices if needed.
A customizable package with allows you to spread out your cost, depending on your need, while avoiding a substantial initial investment.
Does it offer reporting tools? Your payroll software should give you an accurate report of your payroll costs. Assessing your growth and scalability requires an accurate understanding of how much you're spending on your payroll.
A payroll system should allow you to see the costs across the different departments in your organization, and should give you a sense of employee productivity.
Reporting tools that make payroll analysis easy can help in assessing employees for salary adjustments and promotions.
Does it integrate with other business tools? If you have an existing attendance and time-tracking system, look for a payroll system with integration/import capabilities. This will allow you to reduce the time needed to enter hours each period.
Is it compliant with your local regulations? Ensure your payroll system is fully compliant with federal and provincial regulations. Ideally, the software should be updated automatically as legislation changes.
Invest in Payroll Software with Automation
Efficient and accurate payroll processing is essential to the success of any organization. And while there are many ways to process payroll, payroll systems with automated features have become increasingly popular because they offer a number of advantages, including time and cost savings.
When choosing a payroll system for your organization, consider the factors discussed above to ensure you find a system that is truly automated, offers customizable features, and can generate accurate reports. Additionally, look for a system that integrates with other business tools and is compliant with local regulations.
Payroll systems like eNETEmployer from CanPay Payroll offer many benefits that manual processing simply can't match. These systems are worth the investment if they improve your organization's efficiency, employee satisfaction, and bottom line.
Author Bio Dean Mathews is the founder and CEO of OnTheClock, an employee time tracking app that helps over 15,000 companies all around the world track time.
---
Software Updates
eNETEmployer (Current Release)
Added an "Other" category to the HR module. This allows you to create HR items that do not fall into the default set of HR categories that are already offered in eNETEmployer.
Fixed issue where an error message was displayed when deleting certain HR items.
Updated the RL1 form background for 2022 in the Print Year End Forms screen.
Added support for Revenu Quebec's new Certification Number requirements for RL1 reporting.
Added support for the 2022 RL1 form background that provides 2 RL1 per page. This option is available under the Print Year End Forms screen - RL1 - 2 per page, preprinted form option.
Added 2022 RL-1 certification number for the RL-1 xml file.
GrandMaster Suite (v18.04)
Adjusted the printing of Releve 1 forms.
Updated the RL1 form background for 2022.
Added support for Revenu Quebec's new Certification Number requirements for RL1 reporting.
Added support for the 2022 RL1 form background that provides 2 RL1 per page.
Corrected an issue where the eNETInbox upload displayed "null" in place of the Current Gross amount.
Adjusted an issue where some columns were misaligned in the NR4 report (Non-Resident).
Updated Quebec QPIP 2023 maximums.
GrandMaster II (v18.02)
Added support for Revenu Quebec's new Certification Number requirements for RL1 reporting.
Added support for the 2022 RL1 form background that provides 2 RL1 per page.
Adjusted an issue where some columns were misaligned in the NR4 report (Non-Resident).


---
Newsletter Archive
Please choose from the links below to view past issues of The Payroll News, our industry newsletter.
---
Looking for Payroll in Canada?
CanPay provides Payroll and HR software for thousands of companies across Canada. If your business has a unique payroll need or you are simply looking for an alternative to your current method, contact us today. We can offer you a customized solution that will suit your unique business requirements. Please call 1-800-665-5129 or send an email request to: sales@canpay.com.