The Payroll News
August 2015 - Welcome to the latest edition of The Payroll News! As always, please feel free to forward this newsletter to your friends and associates who are interested in keeping up with the latest changes in the Canadian Payroll industry. Federal and Provincial news are listed immediately below followed by our Featured Article and other useful topics.
---
Final Week for CanPay's 30 Years in Payroll Contest!
"Win an iPad" Contest Has One Week Remaining - Thanks to everyone who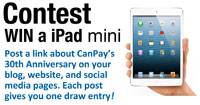 has participated in our 30th Anniversary contest this Summer and who have test-driven eNETEmployer, our newest online payroll and HR solution. The contest ends on August 31, so you still have a few days to get your entries. AND, please read below for more contest entry methods. If you have not heard about the contest yet, click here or read the Win a Free iPad Mini section below.
Click here to read the media release about our 30 year in business.
Click here to visit the new eNETEmployer website.
Click here to visit view a printable brochure that discusses some of the features of this exciting new internet-based payroll software tool.
Win a Free iPad Mini
Help us celebrate our 30th anniversary this summer by getting the word out via social media and the internet, and you will be entered into a draw to win an Apple iPAD Mini! Contest entry is easy - simply post a congratulatory message about us and include a link back to the CanPay website (www.canpay.com). Each post (with link) that you create will get you one entry into the draw. For example, if you post "Congratulations CanPay, on 30 years of payroll software and service in Canada" on both your Facebook and Twitter pages, you will get two entries for the prize! Create more posts on your company website, blog, Instagram, Linked In, Pinterest, Google+, Tumblr, and others to gain even more entries into the draw.
Remember to include a hyperlink back to www.canpay.com for all posts, and please send an e-mail to admin@canpay.com letting us know about all of your posts (so that we can add an entry to the draw for each one). All posts must be submitted by the contest closing date of August 31, 2015.
Get More Entries - NEW!

---
Tip of the Month
August 2015 - WHMIS Workplace Requirements Portal - With this year's announcement of the changes to Canada's Workplace Hazardous Materials Information System (WHMIS 2015), the CCOHS has published a website to assist Canadians transition from the old WHMIS system to WHMIS 2015. WHMIS.org, Canada's National WHMIS Portal, provides Canadians with a single point of access to the most current information about WHMIS 2015 from all of the jurisdictions across Canada. The website also contains helpful tools and resources for workers, employers, suppliers and trainers. Click Here for more information.
Looking for past tips? Please visit our Tip of the Month archive for historical tips other useful information that will assist with your payroll and HR tasks.
Canadian Federal Payroll and HR News
August 13, 2015 - The new Payroll Deductions Tables (T4032) and new Payroll Deductions Supplementary Tables (T4008) - The new Payroll Deductions Tables (T4032) effective October 1, 2015 are now available on the CRA Web site. This publication contains tables for federal and provincial tax deductions, CPP contributions and EI premiums. It will help you determine the payroll deductions for your employees or pensioners. The revised Payroll Deductions Supplementary Tables (T4008) have also been posted. (Full Story)
July 31, 2015 - Harper Government helps connect Canadians with jobs in forest products and wood manufacturing - Several projects have been announced that will connect workers with careers in the forest products and wood manufacturing sectors, including $1 million in funding to create an online database for the forest products sector that will include information on available jobs based on skills and geography. Accurate job market information helps workers connect with available, in-demand jobs while ensuring that employers have workers with the skills they need to help their businesses prosper. It also assists training institutions to align their training with the skills that employers are looking for. (Full Story)
July 31, 2015 - Harper Government helps Canadians with disabilities gain job skills - The Government of Canada will provide over $35 million over three years for 10 projects as part of its goal to help Canadians with disabilities gain the skills and experience they need to find jobs. Since 2006, the Opportunities Fund has helped 40,000 people with disabilities across Canada. This is part of the Government of Canada's overall strategy to equip all Canadians with the skills and training they need to connect with available jobs. (Full Story)
July 30, 2015 - Harper Government helps young Canadian Forces reservists across Canada get jobs - The Harper Government will help 225 young Canadian Armed Forces reservists of the Primary Reserve across Canada get the information, skills and work experience they need to find and keep jobs while remaining in the reserves. Career Edge will use the investment of over $2,805,000 from the Harper Government to create a new paid internship program for active reservists between the ages of 19 and 30. Three host cities will be jointly determined by the Department of National Defence and Career Edge as areas of concern about retaining young reservists. (Full Story)
July 24, 2015 - Government of Canada helps employers in key industries attract and retain Aboriginal apprentices - Support has been announced to build a more robust and inclusive skilled trades workforce by helping employers recruit Aboriginal apprentices in key industries, including trucking, mining and rail. Under the Workplace Opportunities: Removing Barriers to Equity (WORBE) program, the Canadian Apprenticeship Forum will receive $210,000 for a project that will strengthen partnerships between employers and Aboriginal groups and create sector-specific strategies and best practices for increasing the representation of Aboriginal peoples in the skilled trades workforce. (Full Story)
July 10, 2015 - OECD says Canada has positive employment outlook and is improving the way it gets people back to work - The Harper Government is welcoming two OECD reports this week that indicate that, despite a fragile global economy, Canada continues to improve the way it gets people back to work and the country's employment outlook is positive. One of the report's findings is that Canada's unemployment rate is near pre-recession levels and is expected to decline even further by the end of 2016; and the incidence of long-term unemployment - the share of those who have been searching for a job for more than one year - is one of the lowest among OECD countries. (Full Story)
June 19, 2015 - Minister Findlay launches new action plan to cut red tape for small business - National Revenue minister Kerry-Lynne D. Findlay unveiled meaningful and measurable actions that the Canada Revenue Agency (CRA) will take over the next two years to continue to reduce red tape for businesses. Highlighted was the Government's elimination of more than 800,000 payroll remittances (e.g. withheld CPP and EI) for more than 50,000 small businesses and the implementation of enhanced online tools, like My Business Account, so businesses can find the answers they need when they need it. (Full Story)
June 19, 2015 = Interest rates for the third calendar quarter - The Canada Revenue Agency (CRA) today announced the prescribed annual interest rates that will apply to any amounts owed to the CRA and to any amounts the CRA owes to individuals and corporations. These rates will be in effect from July 1, 2015 to September 30, 2015. There have been no changes to the prescribed interest rates since last quarter, except for the interest rate for corporate taxpayers' pertinent loans or indebtedness. (Full Story)
June 19, 2015 - Government makes applying for the Canada Pension Plan retirement pension faster and easier - The Canadian government has officially launched a faster and easier online application for the Canada Pension Plan (CPP). It allows clients to complete and submit their CPP retirement pension application entirely online in just a few clicks, replacing the online process which required claimants to complete a long and cumbersome application online, and print and mail a signed signature page. The My CPP Retirement online application, available within My Service Canada Account, includes the Canadian Retirement Income Calculator and the CPP Statement of Contributions - tools that can help claimants determine the best time to start their retirement pension and get an estimate of how much they might receive. (Full Story)
Provincial Payroll and HR News
(Click a Province to expand the articles)
Featured Article
Online Payroll Software
(Part 2 of 2, continued from our previous issue - Click Here for Part 1)
Common Requirements in Payroll Software
When companies consider a payroll software solution, they typically look for a mature, proven tool that satisfies any or all of the following requirements:
Customizable Options - Features and settings that support your company-specific needs, such as user-definable functions, province-specific Workers Compensation, and customized program views.
Powerful Calculation Functions - The ability to use an unlimited number of earnings, deductions, benefits and accumulators, flexible employee payment schedules, and fast/efficient calculations.
Security - Features that provide piece-of-mind such as employee and user-defined access privileges, user authentication, and the use of today's current web technologies.
Employee Features - Options that enhance the employee payroll experience such as e-mail pay stubs, individual employee self-service accounts, and multi-lingual support.
Comprehensive Reporting - Intuitive reporting features that allow you to preview the final document, customized reporting to suite your situation, and detailed payroll journals and transaction statements.
Third-Party Integration - The ability to perform direct deposit/electronic funds transfer (EFT), accounting software integration, and automatic tax calculations that support changing Provincial and Federal payroll requirements.
Support for Staff and Company Growth - Features that will support your growing business such as templates for adding new employees, the ability to create unlimited payrolls, and employee groups to assist in data analysis.
Year-End Support - Options that make the year-end process easy, such as per-transaction data recording, simplified tax filings, and the ability to view and edit T4, T4A and Relevé 1 forms if needed.
Consider Your Company Workflow
If a given software solution is able to provide the common requirements listed above, the choice may be simple. However, the best solution is not always one that simply performs the necessary tasks to get you from point A to point B. Look for a software solution that strikes a good balance between usability (refer to the five E's2; Effective, Efficient, Engaging, Error Tolerant, and Easy to Learn) while performing the task flawlessly from a technically perspective.
Consider also the overall payroll process and the many details that your staff will encounter each day. Will the proposed solution achieve the end result of accurate pay cheques and reporting, but at the expense of irritated payroll staff? Most will agree that the optimal solution is a balance between required features and well-rounded usability.
Any proposed payroll software solution should also be able to satisfy a set of practical needs in order to ensure a smooth daily workflow, including the necessary technical details to round out the process:
Payroll updates that are applied automatically, negating the need for user involvement.
Stable and reliable software with a proven customer base.
Failover and redundant services for unforeseen software or hardware events.
Experienced help desk staff to support technical needs if needed, including training and support.
Centralized payroll reporting to meet unique business requirements.
E-mail alerts when staff interaction is required, so that important details are not overlooked.
Software License Compliancy to negate any interruptions in the payroll service.
Fast access to relevant information when needed for urgent payroll events.
What's Next?
There are a number of excellent internet-based payroll services available today. The best approach is to first decide on the method that your business will employ; will it be a hands-on approach where your staff are responsible for the day-to-day payroll operations, or will you consider an outsourced approach and contract the task to a service professional?
Begin with a list of your main requirements - Start with a list of your company's payroll goals and objectives, and include your financial personnel's "must-have" features. Remember to consult your payroll staff to be aware of other features and benefits that they might find helpful. Look for a good balance between the basic payroll processing services you need immediately (e.g. customized reports, employee self-service and EFT/direct deposit, etc.) and any additional features that will complete your requirements.
Review the Technology - Involve your IT department and solicit their feedback on the kind of system that will integrate well with your current systems and/or HR platform (many businesses are opting for an integrated Payroll/HR tool from the outset). Ask about data security and employee privacy. These are all important topics and need to be fully addressed by any proposed vendor.
Choose a provider with a proven track record - Experience and industry knowledge does not come overnight. Though many online vendors are new to the market and offer a number of options, you may wish to trust your payroll to a more seasoned provider that comes with an excellent record of reliability and customer service.
Article by Gerald Adams, Media and Digital Services Director at CanPay Software Inc, providers of Canadian payroll and HR software solutions for more than 30 years, and makers of eNETEmployer, a unique web-based Payroll, HR and Employee Scheduling solution. Visit www.enetemployer.com today for your Free trial.
1 Ernst and Young "Global Payroll Survey" - April 2013
2 Whitney Interactive "What Does Usability Mean: Looking Beyond Ease of Use" - 2011
Software Updates
eNETEmployer
New Function - Added a new function to the Functions screen to support a Fixed dollar amount up to a maximum.
Pay Statements Report - Adjusted the pay statements report to provide more room for four digits current + four digits balance + sign + separator.
U.S. Address Support - Added support for United States address in various address-based screens.
Text Wrapping in Internet Explorer - Fixed issue in Internet Explorer where the text wrapping was not being applied when the No Wrap button was selected.
Adjusted True/False Terminology - We have changed all occurrences of True/False to Yes/No for improved grammar and readability across both languages.
French Updates - Numerous updates to French language text, labels and screens.
GrandMaster Suite v7.00
Mid-Year Tax Changes - July 1st Provincial tax changes for the provinces of Newfoundland, British Columbia and the Yukon.
Revised ROE Layout - We have implemented the new ROE Version 2.0 of the XML file layout for Service Canada. This format will be the only format accepted by Service Canada as of March 31st, 2016.
Position Selection in Payroll Specific Information - We have added the ability to select positions from the Base/Default tab of Payroll Specific Information dialog box when running by Dated positions for pay rates. A new check box on the Settings screen entitled "Select Override" must be checked in order to do this.
Clear E.I. and CPP Amounts - Prepaid E.I. and CPP amounts are now automatically cleared if you respond "Yes" to increment the payroll year when setting the first cheque date of a new year.
Newsletter Archive
Please choose from the links below to view past issues of The Payroll News, our industry newsletter.
---
Looking for Payroll in Canada?
CanPay provides Payroll and HR software and online solutions for thousands of companies across Canada. If your business has a unique payroll or HR need or you are simply looking for an alternative to your current method, contact us today. We can offer you a customized solution that will suit your unique business requirements. Please call 1-800-665-5129 or send an email request to: sales@canpay.com.