EFT - Electronic Funds Transfers Module

The Electronics Funds Transfer module (EFT) converts your payroll data into the format required by your bank. All formats are supported by this module including those required by chartered banks, credit unions and near banks. When you are ready to transfer the electronic funds file, simply use the software supplied by your bank. This module works in tandem with GrandMaster Suite's Payroll module.
EFT Module Features
The EFT module is part of an integrated set of applications for all payroll and human resources requirements. Here are some of its features:
Transfer to Multiple Employee Accounts
Using the multiple employee accounts feature you can apportion an employee's pay and electronically distribute it to multiple bank accounts (e.g. their savings, mortgage account and chequing accounts). The EFT module will assemble all pertinent payroll information into one file and electronically transfer it to your organization's bank for the multiple distributions. With bank transfers being made between 3 and 15 days prior to settlement date (i.e. payday), you can easily accommodate multiple pay runs at one time. This means you can pay a one-time bank transfer fee for multiple pay runs instead of multiple bank transfer fees.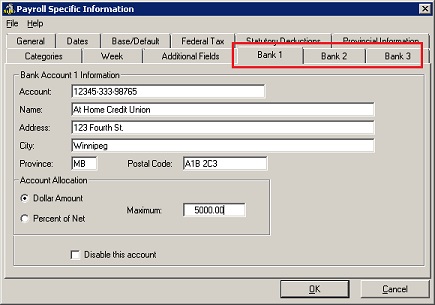 Batch Sequences
The EFT module has the ability to transfer based on batch sequencing. This is useful if your company offers payroll bureau services or if you need to segregate your transmissions for complex processing needs.
Third Party Payments
Authorized deductions for Canada Savings Bonds, RRSP, home insurance and life insurance can be accommodated accurately and easily. Transfers can be even set up to be performed automatically.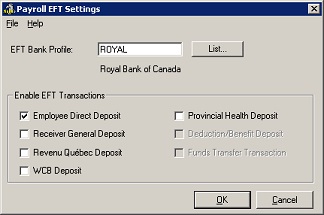 ESOP and CSB Profiles
The EFT module provides pre-defined Employee Share Option Plan (ESOP) and Canada Saving Bonds (CSB) profiles for transfers that draw from funds from the employees' Net Pay. ESOP and CSB profiles can be tailored to your company's specific needs.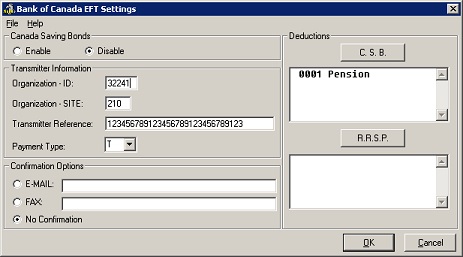 How Do I Get Started?
Click Here or choose the button below to download the complete GrandMaster Suite today! Once installed, you can begin using the program immediately (our Getting Started Guide is available to help you get up and running quickly). If you have any download or installation questions, please call 1‑800‑665‑5129 or e-mail support@canpay.com.

Licensing Information
GrandMaster Suite is yours to use free of charge as long as your payroll contains 20 employees or less (Click Here for more details). If you require payroll processing for more than 20 employees, or would like to receive Toll-Free support from CanPay, simply purchase a GrandMaster Suite license.
Click Here to review GrandMaster Suite's module pricing.
---
Looking for Payroll in Canada?
CanPay provides Payroll and HR software for thousands of companies across Canada. If your business has a unique payroll need or you are simply looking for an alternative to your current method, contact us today. We can offer you a customized solution that will suit your unique business requirements. Please call 1-800-665-5129 or send an email request to: sales@canpay.com.